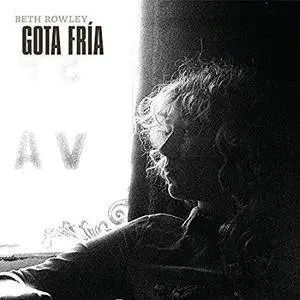 Beth Rowley - Gota Fría (2018)
WEB FLAC (Tracks) 319 MB | Cover | 56 minutes | MP3 CBR 320 kbps | 131 MB
Vocal Jazz | Label: Stoopnik Records
They say its good to take your time with things that are important to you, and certainly no one can accuse Rowley of rushing the process of recording her much anticipated second album. Following a storming introduction in 2008, with her UK top 10 album Little Dreamer selling over 100,000 albums and receiving a Brit Award nomination for Best Female Solo Artist, has spent the last 6 years experimenting and perfecting her sound and is finally back with a new album in the making titled GOTA FRIA, due for release September 2017.
Beth still acknowledges early influences from Gospel Spirituals, Soul and Blues inherited from her parents, who brought her up on Led Belly and Mahalia Jackson. Her new sound has grown edgier, deeper and louder demonstrated recently during her sold out headline tour of the UK, including The Jazz cafe London and the Royal Albert Hall, in support of Jools Holland. Beth's vocals are simply stunning and as she graces the stage with her 4 piece band, it is clear to see that the years preparing have grown in her a confidence that only experience and commitment to your art can give.
Beth has appeared on stage with some giants of the music world including recent tour support slots for Jools Holland and his R&B Orchestra, Burt Bacharach - BBC Electric Proms alongside Adele, Jamie Callum, David Arnold, and as Angelo Badalamenti's personal guest with Susie Sioux (David Lynch's right hand man) at Ghent film Festival. has performed at Willie Nelsons 4th July Back Yard Festival in Austin alongside Ray Wylie Hubbard and has shared performances with Carleen Anderson, Katie Melua, and the BBC Concert Orchestra. When isn't performing her own music she tours as guest vocalist with Jools Holland and his Rhythm and Blues Orchestra.
TRACKLIST
1 Shut It Down (4m 25sec)
2 Howl at the Moon (4m 30sec)
3 Bronze (3m 51sec)
4 Brave Face (5m 15sec)
5 Brother (2m 21sec)
6 Forest Fire (4m 29sec)
7 Princess (5m 38sec)
8 Get It Back (4m 53sec)
9 Only One Cloud (5m 59sec)
10 Run to the Light (3m 30sec)
11 Hide From Your Love (3m 39sec)
12 Gota Fría (7m 48sec)
–––––––––––-
DON'T MODIFY THIS FILE
–––––––––––-
PERFORMER: auCDtect Task Manager, ver. 1.6.0 RC1 build 1.6.0.1
Copyright © 2008-2010 y-soft. All rights reserved
http://y-soft.org
ANALYZER: auCDtect: CD records authenticity detector, version 0.8.2
Copyright © 2004 Oleg Berngardt. All rights reserved.
Copyright © 2004 Alexander Djourik. All rights reserved.
FILE: 9 - Beth Rowley - Only One Cloud.flac
Size: 35289419 Hash: 121D47398D22668E5CF72F9CB4C1FFC2 Accuracy: -m0
Conclusion: CDDA 100%
Signature: 3119265B44A2993278A98E251B9055AE30FB1D7D
FILE: 8 - Beth Rowley - Get It Back.flac
Size: 33191129 Hash: 54D471E315F1449C8655994EFFB91B2B Accuracy: -m0
Conclusion: CDDA 100%
Signature: 8283079D6DBBB6CD71809EC680C52319D06EA32B
FILE: 7 - Beth Rowley - Princess.flac
Size: 30801773 Hash: DCD2CDF47B3160AA80A58D320FB35784 Accuracy: -m0
Conclusion: CDDA 85%
Signature: 42701BA090E09D6C7FBCE39FDBAEE35496F49474
FILE: 6 - Beth Rowley - Forest Fire.flac
Size: 27664275 Hash: 3B86A888FF2011F4AD61E45182DBA8DD Accuracy: -m0
Conclusion: CDDA 100%
Signature: C9E384B940204181ACF762E2AECD74FBB51A317C
FILE: 5 - Beth Rowley - Brother.flac
Size: 10468537 Hash: C03170E687F8DDCD4EB8914C0DF70F0B Accuracy: -m0
Conclusion: MPEG 90%
Signature: 87C2405456236498A00D456F09E4A61CC4E1C8FC
FILE: 4 - Beth Rowley - Brave Face.flac
Size: 32666444 Hash: 7D39483DDB17B81F2D64B14BF44D2D7A Accuracy: -m0
Conclusion: CDDA 100%
Signature: 52228EBAE1E07760B26D646AEC0F7A64DDDFCC62
FILE: 3 - Beth Rowley - Bronze.flac
Size: 25560976 Hash: 471BA3C8BC4E052B03284DB1A25816A3 Accuracy: -m0
Conclusion: CDDA 100%
Signature: 3D42ADBBF5C4E26F7569956034756730A14B87BA
FILE: 2 - Beth Rowley - Howl at the Moon.flac
Size: 31304749 Hash: DB4174F587A724F4C39E2FD3F2E1815B Accuracy: -m0
Conclusion: CDDA 100%
Signature: 58FD9303A7887ACB8DCC5870664C7B2CE697E0D0
FILE: 12 - Beth Rowley - Gota Fría.flac
Size: 39795807 Hash: A6A4A5F3EA3059B4667355C2006B099C Accuracy: -m0
Conclusion: CDDA 100%
Signature: 92366D1B033474071FA1FF902E0F5BA817781687
FILE: 11 - Beth Rowley - Hide From Your Love.flac
Size: 23062782 Hash: D921C4EA4F6F4A041EEC76B5F164496B Accuracy: -m0
Conclusion: CDDA 100%
Signature: 9D436C88D2C8795C43DC515CAEE4B5E2A09C855C
FILE: 10 - Beth Rowley - Run to the Light.flac
Size: 16518632 Hash: 381F00CC883F8FB50DAFF56DDEFAD09A Accuracy: -m0
Conclusion: CDDA 100%
Signature: 87A0179E3C8B55579C3EA126B0200F945C67A151
FILE: 1 - Beth Rowley - Shut It Down.flac
Size: 28802316 Hash: 9167D360B8CC0B6F1397C4CCA1D52D4A Accuracy: -m0
Conclusion: CDDA 100%
Signature: 5C89DBFA2D2B3BA39D92F66F411BE35EFF5F72D9