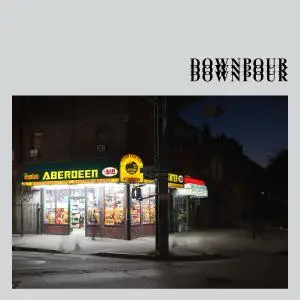 Aberdeen - Downpour (2019)
WEB FLAC (tracks) - 234 MB | Tracks: 9 | 36:51 min
Style: Modern Jazz, Post-Rock | Label: Aberdeen Records
Aberdeen is an indie rock brass band based out of NY. They create a wall of sound with soaring, horn-driven melodies, supported by a bed of distorted guitars and raucous drums. Brian Plautz is the primary songwriter in the band, along with Alex Conroy and Shubh Saran. The band, featuring two saxophones, trombone, trumpet, two guitars, bass and drums never ceases to fill a room with energy.
Tracklist:
01. It Was Here
02. Toward the Sky
03. Upholds All (feat. Bob Reynolds)
04. Unspoken
05. Downpour
06. BKNY
07. Clouds Form
08. Reprise
09. Still
ANALYZER: auCDtect: CD records authenticity detector, version 0.8.2
Copyright © 2004 Oleg Berngardt. All rights reserved.
Copyright © 2004 Alexander Djourik. All rights reserved.


FILE: 01. It Was Here.flac
Size: 26616132 Hash: E4B41FC99262515F2EF543FB664F7052 Accuracy: -m0
Conclusion: MPEG 95%
Signature: 31A559B45F980BE26643260DF479693356BB350B
FILE: 02. Toward the Sky.flac
Size: 33491923 Hash: B1363F58957557B8DE84B5D9A2C3B712 Accuracy: -m0
Conclusion: MPEG 95%
Signature: 8D413001A693116B51F55F1C96750120B48D3288
FILE: 03. Upholds All (feat. Bob Reynolds).flac
Size: 33806725 Hash: E724B58EDF5722E589D8737E7DF4D8F3 Accuracy: -m0
Conclusion: MPEG 95%
Signature: BE896A9D28F6184A0A150AEFE84DD6F6F670AE35
FILE: 04. Unspoken.flac
Size: 21523369 Hash: FAD40D26EE3F25FD59CD51B577383422 Accuracy: -m0
Conclusion: MPEG 95%
Signature: 2D54961ECFC156AF6E942B9CEC6D0B98F265FCD4
FILE: 05. Downpour.flac
Size: 32212298 Hash: 64FBB9AAD6B710A865E41FE539B7886C Accuracy: -m0
Conclusion: MPEG 95%
Signature: 3F91D052CB26AE99FBF3CDBDCB49470B9CF3938D
FILE: 06. BKNY.flac
Size: 30230888 Hash: 231CB7A799BFD63B1E3F975084A3C02D Accuracy: -m0
Conclusion: MPEG 95%
Signature: 0578560C92CD32519F7857B9A1398C3DEE073C62
FILE: 07. Clouds Form.flac
Size: 34778172 Hash: D0A04401A875240FAD6A3DC6227BAE73 Accuracy: -m0
Conclusion: MPEG 95%
Signature: 1419BB6AFB0D57691CEDC3895C1151D0EB68688C
FILE: 08. Reprise.flac
Size: 11579424 Hash: BBC015C334B040BFEAFAC0525A647DED Accuracy: -m0
Conclusion: CDDA 100%
Signature: F463DC305D297A0A7D5FCDD430865479E471CC8B
FILE: 09. Still.flac
Size: 21328762 Hash: 7DC6A328FB754154A255373CDBFE6AFF Accuracy: -m0
Conclusion: MPEG 95%
Signature: 8A00275BE976282448C3CD22FF6D2BE305A193CC