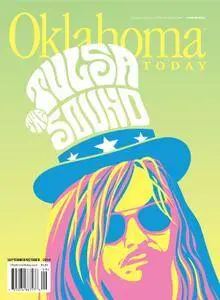 Oklahoma Today - August 22, 2014
English | 100 pages | True PDF | 43.8 MB
Take a trip through rock-and-roll history with the September/October 2014 issue of Oklahoma Today. This issue features the first of a two-part oral history of the Tulsa Sound. Legends like Leon Russell, JJ Cale, and David Teegarden talk to writer Preston Jones about their earliest musical memories and what led them to create the fusion of rock, funk, blues, country, and jazz that emerged from northeastern Oklahoma from the 1950s to the 1970s. Visit the central Oklahoma town of Guthrie, which is in the middle of a transformation as young entrepreneurs open businesses and inspiring travel to this hub of Victorian architecture, historic charm, and modern cool. Join writer Bill Dragoo and his wife Susan as they travel with photographer James Pratt along Oklahoma's portion of the Trans-America Trail, a seven-hundred-mile adventure of dirt and gravel roads, sandy ruts, and water crossings in the very definition of off-the-beaten-path. And celebrate the seventy-fifth anniversary of Tulsa's Philbrook Museum of Art, which in the twenty-first century has transformed into a community touchstone serving a larger and more diverse crowd of art lovers than at any point in its history. Plus: guides to Norman and Stillwater just in time for college football season; some of the best pizza along Route 66 in Clinton; a peek behind the scenes at William H. Macy's Oklahoma-shot directorial debut, Rudderless; Cole Haan COO and president J. Michael Prince on his Choctaw roots, growing up in Latta, and his favorite pair of shoes; a Q&A with noted chef and Oklahoma City resident Danny Bowien; and the secret to making a great bowl of chili from Oklahoma's champions. All this and more in the September/October 2014 issue of Oklahoma Today.