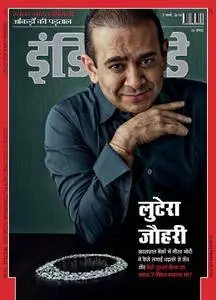 India Today Hindi Edition - मार्च 06, 2018
Hindi | 76 pages | True PDF | 28.4 MB
Highlights of India Today Hindi-7th March 2018, issue:
Cover Story
Nirav Modi: Lutera Jauhari
Rs 11,400 crore and counting: a fraud allegedly engineered by diamantaire Nirav Modi shocks the nation and spells Big Trouble for PSU banks
Upfront: Delhi
Neta Aur Naukarshahon Ke Beech Do Do Haath
AAP is again in the news for wrong reasons. The chief secretary has alleged that he was beaten by the party leaders. Next day two party leaders were manhandled by officers.
Arthaat: Shak Karne Ka Haq
Why was the biggest bank scam committed in India? Because we do not suspect functioning of the government. We will have to seek answers from government regularly.
Pradesh: Maharashtra
Ganne Ki Kadwahat
In spite of a severe drought two years ago, Latur's farmers still prefer water guzzling sugarcane. Local politicians have also had a hand in the proliferation of sugar mills.
Bihar: Asaan Nahi Ye Aadat Chhudana
The state's battle to enforce prohibition faces ever increasing odds. some 108,000 arrests in the past 22 months, But it's clearly not enough
Investigation: Swachh Bharat Mission
Ankdon Mein Fanse Shauchalay
Central government has declared most of the village open defecation free but the ground reports suggest there are still many villages to achieve the goal. There are discrepancies in the data generated by the government. And now scams are being exposed. A detailed story taking inputs from different state.
Nation: Assurance Committee
Waday Hain Wadon Ka Kya
According Assurance Committee report, Modi government has given many assurances (approximately 4000) in the parliament during discussions. Almost half of them have been overlooked.
Special Report: UP Board Exams
Naqal Par Nakail
It is the first time in the history of UP Board exam that more than 12 lakhs students have left the UP board examinations. A detailed story from Lucknow.