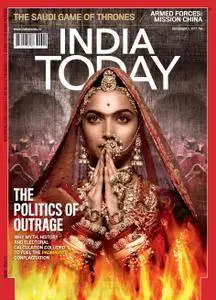 India Today - December 04, 2017
English | 122 pages | True PDF | 39.9 MB
Highlights of India Today 4th December 2017, issue:
This week's Cover Story focuses on a still unseen film about a mythical queen that has caused turmoil in the country. The story looks at how the blurred lines between mythology, history and electoral arithmetic have come in the way of the release of Sanjay Leela Bhansali's film Padmavati. The filmmakers have insisted that Padmavati "captures Rajput valour, dignity and tradition in all its glory". However, the Karni Sena chief Kalyan Singh Kalvi has claimed that group has been forced to resort to aggression only after their peaceful overtures fell on deaf ears.
The issue has a special story on West Asia's power politics and how Saudi Arabia's unprecedented purge of the high and mighty among the ruling elite along with Iran's expanding sphere of influence are sparking further tensions in the region.
This week's issue has a special package on how the sari, a sign of both modernity and tradition, is being reinvented by talented designers and is becoming an aspirational symbol.
The issue also comes with three free magazines: Simply Kolkata, Simply Delhi, and Simply Mumbai.