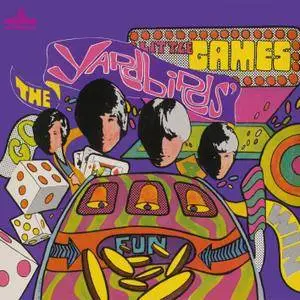 The Yardbirds - Little Games (1967/2015) [Remastered]
FLAC (tracks) 24-bit/96 kHz | Time - 30:27 minutes | 711 MB
STEREO | Studio Master, Official Digital Download | Artwork: Front cover
"Little Games" is the fourth studio album released by the English Rock group the Yardbirds. This was the band's first album recorded with newly inducted guitarist Jimmy Page, after Jeff Beck left the group. The 1967 record features singles "White Summer" and "Stealing Stealing". By the time Jeff Beck left the Yardbirds in late 1966, the group was down to a four-piece, with former session-man Jimmy Page left to handle the guitar duties. As the group disintegrated over the next year and a half, Page would end up taking the remnants of this group and turning it into Led Zeppelin.
It's a dreadfully unfashionable thing to say, but the day producer Mickie Most moved in on the Yardbirds was the day the Yardbirds' own values moved out. The union was a lousy idea from the start. By 1966-1967, the Yardbirds had developed into quite an excellent experimental rock combo, marred only by an appalling lack of self-belief. Most, on the other hand, was pure pop personified – marred only by a monumental lack of taste. And when those two attributes collided, listeners got Little Games, the final Yardbirds album. Surprisingly, it really wasn't a bad record. Plentiful outtakes from the sessions have surfaced, both officially and otherwise, theoretically rendering this particular package redundant. Yet if one was to be dreaming of the ultimate alternate version of Little Games, this could be it. Highlights on disc one include a playful "Little Games," a smoldering, acoustic "White Summer," and the masterful reverse tape take of "Tinker Tailor," which so heavily predicts Hawkwind's acid-drone "Paranoia" that it's amazing that no one noticed before. It also blends nicely with "De Lane Lea Lee," which itself employed backward drums (oddly reversed on EMI's Little Games Sessions & More package) and piano. Contrary to the sleeve, incidentally, the two versions of this song are not indexed separately. If disc one is simply a satisfactory roundup of the best of the Little Games outtakes, however, disc two is the trivia-hound's paradise. It opens with 13 attempts at "You Stole My Love," each one proof that the band would never come to grips with one of songwriter Graham Gouldman's least-appreciated masterpieces (Keith Relf's absence from the studio that day ensured they never got around to adding vocals to it either). When EMI came to add this track to the Little Games Sessions album, two separate takes – eight and 13 – were combined for the finished product. On this evidence, that was a very smart idea. From the same 1966 session, the piano/drum duet "LSD" is present in all three of the takes attempted. None of them, sadly, live up to the title's promise, suggesting either that the band had some very mundane experiences with drugs, or that the song really was about money; in earlier, more naïve times, LSD was the standard abbreviation for pounds, shillings, and pence. And so on to an extended look at the creation of "Ten Little Indians," a grueling marathon which replays 13 of the 14 generally complete takes which the band attempted, plus a 15th created with overdubs and the like. And is it surprising to learn that the development of what was otherwise a preposterous addition to the Yardbirds' repertoire is, in fact, the most fascinating track on the entire album? Several guitar-heavy versions show Jimmy Page in a considerably more favorable light than his Yardbirds recordings normally allow, while other highlights include take ten, where the echo machine is switched on to devastating effect; take 11, which became the base for the finished version; and takes two and seven, which EMI combined for the Sessions album, but which actually sound better like this. Painfully protracted though it is, it's this final track which makes disc two even worth looking at. But that is to damn it with faint praise. The truth is, combined with the best of disc one, Ten Little Indians, in all its multitudinous guises, offers a healthier picture of the latter-day Yardbirds than any other release on the market. Whoever would have thought it?
Tracklist:
01 - Little Games
02 - Smile On Me
03 - White Summer
04 - Tinker, Tailor, Soldier, Sailor
05 - Glimpses
06 - Drinking Muddy Water
07 - No Excess Baggage
08 - Stealing Stealing
09 - Only The Black Rose
10 - Little Soldier Boy
Produced by Mickie Most & Paul Samwell-Smith.
Recorded on March 5, 1967 at Olympic Studios, London & April 29-May 1, 1967 at De Lane Lea, London.
Stereo version. Digitally Remastered.
Musicians:
Keith Relf - vocals, harmonica, percussion
Jimmy Page - guitars
Chris Dreja - bass guitar, backing vocals
Jim McCarty - drums, percussion, backing vocals
Analyzed: The Yardbirds / Little Games (Stereo, Remastered)
––––––––––––––––––––––––––––––––––––––––

DR Peak RMS Duration Track
––––––––––––––––––––––––––––––––––––––––
DR10 -0.01 dB -11.60 dB 2:30 01-Little Games
DR9 -0.01 dB -11.50 dB 3:21 02-Smile On Me
DR11 -0.01 dB -13.80 dB 3:58 03-White Summer
DR9 -0.01 dB -10.64 dB 2:47 04-Tinker, Tailor, Soldier, Sailor
DR9 -0.16 dB -11.68 dB 4:24 05-Glimpses
DR9 -0.05 dB -10.96 dB 2:57 06-Drinking Muddy Water
DR9 -0.01 dB -11.12 dB 2:35 07-No Excess Baggage
DR10 -0.01 dB -11.42 dB 2:26 08-Stealing Stealing
DR9 -0.01 dB -10.81 dB 2:54 09-Only The Black Rose
DR8 -0.01 dB -10.33 dB 2:35 10-Little Soldier Boy
––––––––––––––––––––––––––––––––––––––––

Number of tracks: 10
Official DR value: DR9

Samplerate: 96000 Hz
Channels: 2
Bits per sample: 24
Bitrate: 3171 kbps
Codec: FLAC
================================================================================


Thanks to the Original customer!