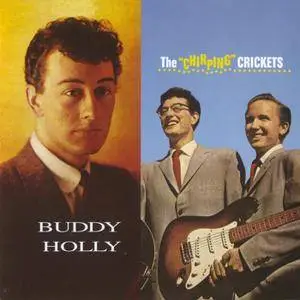 Buddy Holly & The Crickets - The Chirping Crickets / Buddy Holly (1957/58) [MONO - APO 2017]
PS3 Rip | SACD ISO | DSD64 2.0 > 1-bit/2.8224 MHz | 51:04 minutes | Scans included | 736 MB
or FLAC (converted with foobar2000 to tracks) 24bit/88,2 kHz | Full Scans included | 537 MB
This APO SACD reissue included two of the greatest albums in the Buddy Holly canon for a can't-miss package for Rock'N'Roll history buffs and music fans of all stripes. One of rock's greatest albums is the debut album by the Crickets and the only one featuring Buddy Holly released during his lifetime. The Chirping Crickets contains the group's number one single "That'll Be the Day" and its Top Ten hit "Oh, Boy!". Three months after the release of The Chirping Crickets came the self-titled 1958 classic. It was Buddy's last album released prior to the plane crash in Iowa that struck him down in 1959 at age 22. The album Buddy Holly features the Top Ten smash "Peggy Sue" plus several songs that went on to be standards: "I'm Gonna Love You Too", "Listen To Me", "Everyday", "Words of Love", and "Rave On".

These are among the best rock 'n' roll songs of the 1950s or ever, making this SACD a collectible of truly historic and memorable tunes — "ranking with Elvis Presley and Meet the Beatles," writes AllMusic.

What has Analogue Productions done to kick these classic albums up a notch? For starters, our version features stellar remastering by Keving Gray at Cohearent Audio. Gray transferred the high-res digital files used for this Hybrid SACD release to DSD, and Gus Skinas prepared the disc masters at the Super Audio Center in Boulder, Colo.

Born Charles Hardin Holley on September 7, 1936, in Lubbock, Texas, Holly was nicknamed "Buddy" by his mother. She felt that his given name was too big for her little boy. "Holly," the altered form of his last name, would later result from a misspelling in his first recording contract. Holly learned to play piano and fiddle at an early age, while his older brothers taught him the basics of guitar. In early 1956, Holly and his band began recording demos and singles in Nashville under the name Buddy Holly and the Three Tunes, but the group's lineup was later revised and dubbed The Crickets. Holly wrote and recorded his breakthrough hit, "That'll Be the Day," with The Crickets in 1957. The song's title and refrain are a reference to a line uttered by John Wayne in the 1956 film "The Searchers." Between August 1957 and August 1958, Holly and the Crickets charted seven different Top 40 singles.

Composer and singer John Fogerty, of Creedence Clearwater Revival fame, inducted Buddy Holly into the Rock And Roll Hall of Fame at the 1986 Hall of Fame induction ceremony. What Buddy Holly meant to him, Fogerty said, was destiny calling. Fogerty, 12, bought "That'll Be The Day" and soon began dreaming of forming his own combo, like the group of musicians — The Crickets — he saw on the album cover. And in Liverpool, England, "the same thing was going on with four other guys. They named their group The Beatles, because Buddy Holly's group was called The Crickets.

"We are, each of us, made up of the people we love and the people we admire," Fogerty, said. "We take those reflections, and hopefully, grow."

Holly's talented life was cut short in a plane crash on Feb. 3, 1959, that also claimed the lives of Ritchie Valens and J.P. "The Big Bopper" Richardson. This SACD is a tribute to what was, and what might have been a lengthy pioneering musical career.
Tracklist:
01. Oh, Boy!
02. Not Fade Away
03. You've Got Love
04. Maybe Baby
05. It's Too Late
06. Tell Me How
07. That'll Be the Day
08. I'm Looking for Someone to Love
09. An Empty Cup (And a Broken Date)
10. Send Me Some Lovin'
11. Last Night
12. Rock Me My Baby
13. I'm Gonna Love You Too
14. Peggy Sue
15. Look At Me
16. Listen to Me
17. Valley of Tears
18. Ready Teddy
19. Everyday
20. Mailman, Bring Me No More Blues
21. Words of Love
22. You're So Square (Baby I Don't Care)
23. Rave On!
24. Little Baby
Tracks "1-12" is The "Chirping" Crickets LP (1957)
Tracks 13-24" is "Buddy Holly" LP (1958)
Mastered for this SACD by Kevin Gray at Cohearent Audio from the original analog master tapes.
The Crickets
Buddy Holly - vocals, guitars
Niki Sullivan - rhythm guitar
Joe B. Mauldin - bass
Jerry Allison - drums
foobar2000 1.6.1 / Dynamic Range Meter 1.1.1

––––––––––––––––––––––––––––––––––––––––
Analyzed: The Crickets / Buddy Holly / The "Chirping" Crickets / Buddy Holly (MONO)
––––––––––––––––––––––––––––––––––––––––

DR Peak RMS Duration Track
––––––––––––––––––––––––––––––––––––––––
DR12 -6.45 dB -22.27 dB 2:10 01-Oh, Boy!
DR14 -7.36 dB -23.40 dB 2:23 02-Not Fade Away
DR11 -7.91 dB -21.46 dB 2:10 03-You've Got Love
DR12 -7.11 dB -21.67 dB 2:04 04-Maybe Baby
DR12 -8.14 dB -23.59 dB 2:25 05-It's Too Late
DR13 -6.60 dB -21.90 dB 2:03 06-Tell Me How
DR11 -8.88 dB -22.49 dB 2:18 07-That'll Be the Day
DR12 -6.23 dB -21.07 dB 1:59 08-I'm Looking for Someone to Love
DR12 -6.28 dB -22.15 dB 2:14 09-An Empty Cup (And a Broken Date)
DR13 -5.26 dB -21.75 dB 2:37 10-Send Me Some Lovin'
DR13 -8.29 dB -25.17 dB 1:56 11-Last Night
DR13 -7.66 dB -22.90 dB 1:52 12-Rock Me My Baby
DR12 -9.29 dB -24.95 dB 2:15 13-I'm Gonna Love You Too
DR14 -6.86 dB -24.98 dB 2:32 14-Peggy Sue
DR12 -11.37 dB -25.70 dB 2:09 15-Look At Me
DR12 -12.19 dB -26.82 dB 2:23 16-Listen to Me
DR14 -10.28 dB -27.10 dB 2:10 17-Valley of Tears
DR11 -11.54 dB -25.01 dB 1:33 18-Ready Teddy
DR13 -10.68 dB -26.86 dB 2:10 19-Everyday
DR12 -11.51 dB -25.92 dB 2:14 20-Mailman, Bring Me No More Blues
DR14 -11.64 dB -28.28 dB 1:58 21-Words of Love
DR15 -8.75 dB -26.02 dB 1:38 22-You're So Square (Baby I Don't Care)
DR12 -10.59 dB -23.85 dB 1:51 23-Rave On!
DR11 -11.49 dB -25.84 dB 2:00 24-Little Baby
––––––––––––––––––––––––––––––––––––––––

Number of tracks: 24
Official DR value: DR13

Samplerate: 2822400 Hz / PCM Samplerate: 88200 Hz
Channels: 2
Bits per sample: 1
Bitrate: 5645 kbps
Codec: DSD64


Thanks to PS³SACD!
Uncompressed SACD ISO size > 2,04 GB
>