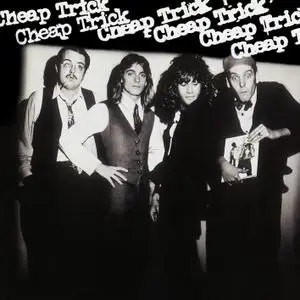 Cheap Trick - Cheap Trick (1977/2015)
FLAC (tracks) 24-bit/44.1 kHz | Time - 39:58 minutes | 446 MB
Studio Master, Official Digital Download | Artwork: Front Cover
Cheap Trick's self-titled debut is a '70s rock masterpiece. Although it doesn't contain many renowned songs, it does have superbly underrated compositions and electric performances, and a dark undercurrent is encountered throughout. The melodic hard rock has pop leanings at times, but the album was wisely recorded raw (by Aerosmith producer Jack Douglas), and such disturbing topics as pedophilia, serial murderers, suicide and prostitution are touched upon.
'ELO Kiddies' starts the album off on an anthemic note (the track would be used steadily in concert to get the crowd going), while 'Hot Love' and 'He's A Whore' showed that the band could easily hold their own with the punk rock crowd. 'Mandocello' is an absolutely gorgeous acoustic ballad that had hit single written all over it, while 'Daddy Should Have Stayed In High School,' 'The Ballad of TV Violence' and 'Speak Now' are all hard-rocking highlights. Many rightly consider CHEAP TRICK to be the band's finest album (Cheap Trick released a totally different self-titled album in 1997, which should not be confused with this 1977 debut of the same name).
"Cheap Trick's eponymous debut is an explosive fusion of Beatlesque melodic hooks, Who-styled power, and a twisted sense of humor partially borrowed from the Move. But that only begins to scratch the surface of what makes Cheap Trick a dynamic record. Guitarist Rick Nielsen has a powerful sense of dynamics and arrangements, which gives the music an extra kick, but he also can write exceptionally melodic and subversive songs. Nothing on Cheap Trick is quite what it seems. While the songs have hooks and attitude that arena rock was sorely lacking in the late '70s, they are also informed by a bizarre sensibility, whether it's the driving 'He's a Whore,' the dreamy 'Mandocello,' or the thumping Gary Glitter perversion 'ELO Kiddies.' 'The Ballad of TV Violence' is about mass murder, while 'Daddy Should Have Stayed in High School' concerns pedophiles. All of it is told with a sense of humor, but it doesn't come off as cheap or smirking because of the group's hard-rocking drive and Robin Zander's pop-idol vocals. Even 'Oh, Candy,' apparently a love song on first listen, is an affecting tribute to a friend who committed suicide. In short, Cheap Trick revel in taboo subjects with abandon, devoting themselves to the power of the hook, as well as sheer volume and gut-wrenching rock & roll – though the record is more musically accomplished than punk rock, it shares the same aesthetic. The combination of off-kilter humor, bizarre subjects, and blissful power pop made Cheap Trick one of the defining albums of its era, as well as one of the most influential." (Stephen Thomas Erlewine, AMG)
Tracklist:
1. ELO Kiddies (Single Version) 03:41
2. Daddy Should Have Stayed in High School 04:45
3. Taxman, Mr. Thief 04:16
4. Cry, Cry 04:23
5. Oh, Candy 03:07
6. Hot Love 02:31
7. Speak Now or Forever Hold Your Peace 04:35
8. He's a Whore 02:43
9. Mandocello 04:47
10. The Ballad of TV Violence (I'm Not the Only Boy) 05:15
Personnel:
Robin Zander, lead vocals, rhythm guitar
Rick Nielsen, lead guitar, backing vocals
Tom Petersson, bass, backing vocals
Bun E. Carlos, drums, percussion
Recorded 1976-1977 at Record Plant, New York City
Engineered by Jay Messina
Produced by Jack Douglas
Digitally remastered
foobar2000 1.3.7 / Dynamic Range Meter 1.1.1
log date: 2019-02-12 14:23:06

––––––––––––––––––––––––––––––––––––––––
Analyzed: Cheap Trick / Cheap Trick
––––––––––––––––––––––––––––––––––––––––

DR Peak RMS Duration Track
––––––––––––––––––––––––––––––––––––––––
DR12 -1.07 dB -15.01 dB 3:41 01-ELO Kiddies (Single Version)
DR12 -2.11 dB -15.65 dB 4:45 02-Daddy Should Have Stayed in High School
DR12 -2.11 dB -14.97 dB 4:16 03-Taxman, Mr. Thief
DR12 -1.44 dB -15.97 dB 4:23 04-Cry, Cry
DR11 -1.33 dB -15.22 dB 3:07 05-Oh, Candy
DR11 -2.26 dB -15.17 dB 2:31 06-Hot Love
DR12 -1.36 dB -15.70 dB 4:35 07-Speak Now or Forever Hold Your Peace
DR11 -1.21 dB -14.53 dB 2:43 08-He's a Whore
DR13 -2.05 dB -17.36 dB 4:47 09-Mandocello
DR11 -1.90 dB -15.26 dB 5:15 10-The Ballad of TV Violence (I'm Not the Only Boy)
––––––––––––––––––––––––––––––––––––––––

Number of tracks: 10
Official DR value: DR12

Samplerate: 44100 Hz
Channels: 2
Bits per sample: 24
Bitrate: 1568 kbps
Codec: FLAC
================================================================================
Thanks to the Original customer.