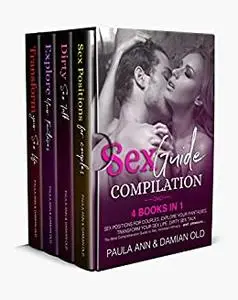 sex guide: THIS BOOK INCLUDES: SEX POSITIONS FOR COUPLES, EXPLORE YOUR FANTASIES, TRANSFORM YOUR SEX LIFE, DIRTY SEX TALK The most comprehensive guide to sex, increase intimacy, pleasure and energy by Paula Ann
English | March 1, 2020 | ISBN: N/A | ASIN: B0858SVLRK | 500 pages | EPUB | 1.58 Mb
The ultimate guide to sex
4 BOOKS IN 1 BOXSET:
1-SEX POSITIONS FOR COUPLES
2-EXPLORE YOUR FANTASIES
3-TRANSFORM YOUR SEX LIFE
4-DIRTY SEX TALK
Do you want to learn how to School of sex guide for couples? Do you want to learn how to turn your sexual fantasies? Sex tips, spanking and domestic discipline. Submissive training and sexy games? Do you want to learn how to talk dirty?
Intimacy is an important part of every relationship. Getting to know your partner and connecting with them on a deeper level through communication and affection can go a long way to ensuring a relationship grows into a strong and resilient love that can last for decades. While this book primarily focuses on intimacy in new couples, anyone in any type of relationship can apply the principles and suggestions offered here.
You are now ready to share what you know with your romantic or sexual partners. The more sexually fulfilled your partners are, the more sexually fulfilled that they will make you as well.
There is nothing wrong with having a wild sexual fantasy. The human mind often craves for such comfort and so you should all be willing to be open about this. Also, it is your responsibility to never judge your partner if you are not comfortable with their fantasy. You could politely let them know but do not be judgmental of each other. Often, it has been seen that living each other's sexual fantasies might be a great way to kick in the passion and rediscover each other in a way you may have quite forgotten how!
Dirty talk is a way of expressing what you need or want from your partner, and it is nothing to be embarrassed or ashamed of. You're only human and you have needs that must be fulfilled. Including sexual needs. When you're caught up in the heat of passion as your lovemaking grows increasingly more vigorous, using dirty talk is only going to increase your desire for each other. The right phrases can fuel your partner's already raging hormones, intensifying their lovemaking that ends in an orgasmic experience for both of you.
In Sex Guide you're going to discover:
The secret logic of sexual fantasies
Sex tips
Foreplay (oral sex techniques, use only your hands)
Beginners positions (man on top, woman on top)
Physical and mental benefits of sex
Advanced positions
Sex variants
Sex in pregnancy
Submissive mindset
Why, when, how to use dirty talk with your partner
Sex toys
… AND MORE!
Feel Free to contact me for book requests, informations or feedbacks.
Without You And Your Support We Can't Continue
Thanks For Buying Premium From My Links For Support