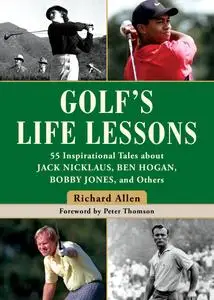 Golf's Life Lessons: 55 Inspirational Tales about Jack Nicklaus, Ben Hogan, Bobby Jones, and Others by Richard Allen
English | June 4th, 2019 | ISBN: 1510740716, 052285849X | 288 pages | EPUB | 0.97 MB
Both life and golf can offer frustrations and also important lessons on topics ranging from "grinding it out" to versatility, sportsmanship, honesty, and of course confidence. In the words of Grantland Rice, "Like life, golf can be humbling. However, little good comes from brooding about mistakes we've made. The next shot, in golf or life, is the big one."