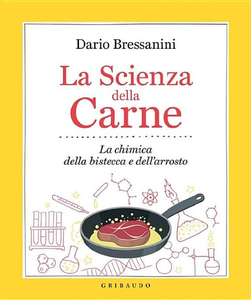 Dario Bressanini - La scienza della carne. La chimica della bistecca e dell'arrosto (2016)
Italian | 2016 | 239 pages | ISBN: 8858016025 | AZW3/MOBI/PDF | 14 MB
Dario Bressanini, autore di best seller, docente di chimica e ricercatore di professione, dopo il successo del volume sulla scienza della pasticceria torna con un libro dedicato alla carne. Il libro tratta la composizione, la struttura, il colore, il sapore, la consistenza e la succosità della carne applicando le basi teoriche a varie cotture asciutte e umide e perfino a quelle a basse temperture. Linguaggio semplice, disegni esplicativi e pratiche tabelle aiutano a comprendere tutto quello che serve per riconoscere i pezzi, acquistare i giusti tagli e cucinarli nel modo corretto. Il volume è arricchito da ricette, o sarebbe meglio dire "esperimenti culinari": applicazioni sperimentali dei principi chimici e fisici illustrati. Una sorta di manuale di istruzioni che spiega le ragioni che muovono le cose, perché se si comprende come preparare scientificamente un buon brasato non ci saranno problemi a seguire una ricetta di un ossobuco o di una scaloppina. Osservare una bistecca mentre cuoce può offrire molti spunti di riflessione e far scaturire tante domande. Un po' come guardare le stelle.
Pe... in ITALIANO CLICCA QUI
>&... Blog Here <<<
If you like this release please support Developer / Publisher and BUY it.
If you'll find that my links are dead please let me know through the Private Messages.
Please DO NOT MIRROR