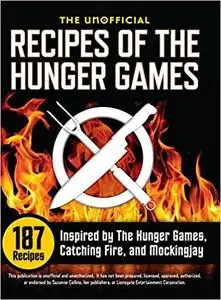 Unofficial Recipes of the Hunger Games: 187 Recipes Inspired by the Hunger Games, Catching Fire, and Mockingjay by Suzanne Collins
English | September 1, 2012 | ISBN: 1623150256 | 259 pages | EPUB | 4.98 Mb
"What must it be like, I wonder, to live in a world where food appears at the press of a button? How would I spend the hours I now commit to combing the woods for sustenance if it were so easy to come by?"
 – Katniss Everdeen, 
The Hunger Games
The Hunger Games trilogy captivates its audience through a storyline dominated by the quest for food, with the vast culinary disparity between the impoverished districts and the opulent Capitol taking center stage. For the Hunger Games characters, food is both a weapon and an act of love, and – as in today's world – it is essential to survival. Fortunately, most of us inhabit a more prosperous world than the Hunger Games tributes, one where food can appear with the press of a button.
THE UNOFFICIAL RECIPES OF THE HUNGER GAMES
Savor the post-apocalyptic world of Panem one dish at a time with 
The Unofficial Recipes of The Hunger Games
. Offering 187 recipes, this cookbook serves fans an authentic taste of the Hunger Games trilogy, whether foraged for in the impoverished District 12 or devoured at the lavish banquets of the Capitol.
Satisfy your appetite with the recipes savored by the Hunger Games tributes:
Peeta's Burnt Raisin Nut Bread
Orange Chicken in Cream Sauce
Beloved Lamb Stew With Dried Plums
Consume the dishes inspired by the heroic characters of The Hunger Games:
Creamy Roasted Katniss Soup
Prim's Birthday Venison Steaks
Gale's Venison Pot Roast
Hunt like Katniss and Gale for adventurous ingredients and create daring dishes: 
Greasy Sae's Holiday Stuffed Possum
Hazelle's Authentic Beaver Stew
Transport your senses into the world of 
The Hunger Games, Catching Fire and Mockingjay
, and relish the delicious adventures of the trilogy over and over again.
Feel Free to contact me for book requests, informations or feedbacks.
Without You And Your Support We Can't Continue
Thanks For Buying Premium From My Links For Support