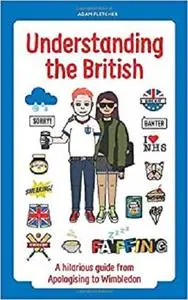 Understanding The British: A hilarious guide from Apologising to Wimbledon by Adam Fletcher
English | March 26, 2019 | ISBN: 1724018205 | 196 pages | EPUB | 0.97 Mb
The British are not who you think they are…
In fact, they're not even who
they
think they are!
Come on a hilarious tour of the most misunderstood people on Earth.
Throwing away all the usual, boring stereotypes, and unafraid of being critical where justified, best-selling author (and Brit) Adam Fletcher will explain:
- What cricket has to do with the Grim Reaper.
- When you shouldn't say sorry.
- The real reason Brexit happened (from the perspective of a Remainer).
- Which secret religion every Brit is a member of.
- The twenty most annoying phrases in the English language.
- What every Brit automatically does when left alone.
- The revolutionary hangover cure invented in Scotland.
- The secret ideology behind roundabouts.
- The Ten Commandments of British humour.
And much more.
Packed with warmth, humour, honesty, insight,
and more than
forty hilarious illustrations
, Understanding the British is the definitive irreverent guide to a strange nation—a book that will appeal to lovers of George Mikes, Bill Bryson, and George Mahood.
The truth about the British will surprise you. Discover it now!
Bonus: includes a How British Are You? quiz that will reveal just how well you understand the British mentality.
Feel Free to contact me for book requests, informations or feedbacks.
Without You And Your Support We Can't Continue
Thanks For Buying Premium From My Links For Support