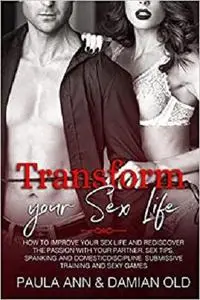 Transform Your Sex Life: How to improve your sex life and rediscover the passion with your partner. Sex tips, spanking and domestic discipline. Submissive training and sexy games (Sex guide) by Paula Ann
English | February 3, 2020 | ISBN: N/A | ASIN: B084DGFB83 | 154 pages | EPUB | 1.04 Mb
Do you want to learn how to improve your sex life and rediscover the passion with your partner? Sex tips, spanking and domestic discipline. Submissive training and sexy games? If yes, then keep reading…
When you want to turn your sexual fantasy to life, one of the key things to keep in mind is to understand what your partner thinks of it. This is why you should be observant of how your partner reacts. Try to bring it up in a casual way and observe their reaction. Some people are very keen on the whole idea while others may be very reserved about it. Regardless of what is the scenario, there is always a possibility of coming to a common ground on such aspects. So, you should try to approach your partner.You can begin this by making smart use of dirty talks as these sets the mood and tempo. Turn them on and try to arouse them simply by swaying them with your words. When you both seem to be in the mood, you could then let him/her know about your fantasy. Make sure to slowly open up the whole idea and then gauge the reaction.It is also advised to come up with the right kind of sex games as well. There are tons of games out there. Look at the possible options and try to choose the ones which can help you relay your fantasy. If you are the curious kind and would like to know what your partner has hidden in the heart, think of games wherein you are supposed to talk of any of the wildest fantasy you want to live.These are some of the most amazing ideas to let the secret out of the box and to know and understand the desires of your partner.If you would like your partner too to disclose their fantasy, give them ample room to do so. Often, it is the discussion of sexual fantasies that could trigger the most heated of passionate moments. You are with your partner and you have had sex various times together. So, when you both have been together for some time, there is no reason for you to be apprehensive of the desires you have in you.There is no reason for you to push your partner to turn those desires to life but letting them know what you desire and crave is not wrong. When your partner comes to know of your desires and seems to be equally interested in it, you have every reason to grin and celebrate. If not, try and reach a common ground or explore their desires and see if you could at least have some kinky fun to steam the night up.So, these are surely the best of ways by which you could zero in on each other's' sexual desires. There is nothing wrong with having a wild sexual fantasy. The human mind often craves for such comfort and so you should all be willing to be open about this. Also, it is your responsibility to never judge your partner if you are not comfortable with their fantasy. You could politely let them know but do not be judgmental of each other. Often, it has been seen that living each other's sexual fantasies might be a great way to kick in the passion and rediscover each other in a way you may have quite forgotten how!
In this book, you will learn more about:
Transformation
Physical and mental benefits of sex
Understanding the complexity between pleasure and orgasm
Picking the perfect sex toys and fantasies
Submissive mindset
Techniques for stronger erections
Spicing up your sex life
… AND MORE!
Feel Free to contact me for book requests, informations or feedbacks.
Without You And Your Support We Can't Continue
Thanks For Buying Premium From My Links For Support