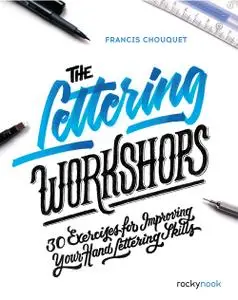 The Lettering Workshops: 30 Exercises for Improving Your Hand Lettering Skills by Francis Chouquet
English | November 29th, 2018 | ISBN: 168198444X | 160 pages | EPUB | 23.73 MB
In The Lettering Workshops, you'll learn all about the art and practice of drawing letters using hands-on techniques in five workshops across 30 lessons! Whether you're a beginner or a professional graphic designer, you'll quickly learn how to develop and advance your lettering skills.
In this richly illustrated book of lessons and exercises, you'll find:
• 5 Workshops to learn the art of drawing letters—from an introduction to brush lettering and lettering script to the decoration of letters; from the secrets of good composition to the process of digitization and vectorization of your type
• 30 Exercises that gradually develop from beginner through intermediate and advanced difficulty
• 16 Studies of works to understand what makes good lettering
• 52 Inspirational contributions in featured galleries from international brands
• 160 Pages for all skill levels
• 26 Letters to learn and explore!
Enjoy
My Blog
. No any convert or low quality!