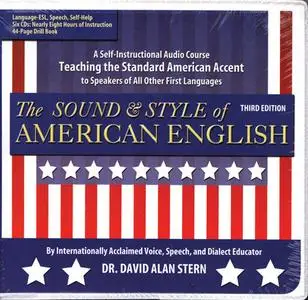 The Sound and Style of American English, 3rd edition
2006 | MP3 128kbps | ISBN: ISBN-10 : 0926862936 | ISBN-13 : 9780926862937 | 483 MB
People from many professions, not just acting, want to reduce their native accent and/or make themselves understood more clearly when speaking American English. Business professionals are particularly interested in presenting a more distinctly American speech presence.
Learning to speak American English naturally is becoming increasing popular with actors from Europe, Asia, and Africa, especially as the US stage, film, and television industries present such significant increases in dramatic opportunities. Dr. David Alan Stern's series highlighting American accents for actors of other native languages has become the premiere acting tool in the non-American actor's accent arsenal.
Because pronunciation changes alone are not enough to convincingly reproduce any accent, this self-instructional program provides specific skills and drills to learn the resonance, lilt, rhythm, and pronunciation of the American dialect and advanced pronunciation for colloquial speech styles. Drills to help you integrate your knowledge into phrases, sentences, passages, and finally, into your own speech are also included.