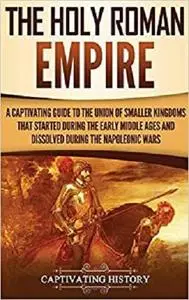 The Holy Roman Empire: A Captivating Guide to the Union of Smaller Kingdoms That Started During the Early Middle Ages and Dissolved During the Napoleonic Wars by Ch Publications
English | December 2, 2019 | ISBN: 1647480183 | 114 pages | EPUB | 1.04 Mb
If you want to discover the captivating history of the Holy Roman Empire, then keep reading…
Beginning with Charlemagne, the great and educated king who would serve as an inspiration for world leaders from Frederick II to Adolf Hitler, the Holy Roman Empire's intricate ties with the Roman Catholic Church would provide for plenty of excitement and drama in its early years. However, as the empire staggered through the Middle Ages and into the Renaissance, it would eventually be forced to declare its allegiance with a new way of thinking: Protestantism.
Throughout the story of the Holy Roman Empire, a wealth of fascinating tales from interesting people proliferates. Monks and emperors will clash, poets sing the praises of kings, and the pope rides blind and bareback on a frightened donkey through the streets of Rome. The mightiest monarch in all of the world walks barefoot in the snow in repentance for his angry deeds, and two rival families stand toe-to-toe for the monarchy. Crusades are lost in war and won in diplomacy, while kings are held ransom, revolts are suppressed, and antipopes crowned. And this incredible tale spanning a full millennium is ready and waiting for you to turn the next page.
In The Holy Roman Empire: A Captivating Guide to the Union of Smaller Kingdoms That Started During the Early Middle Ages and Dissolved During the Napoleonic Wars, you will discover topics such as
The First Roman Empire
The Carolingians
A Formal Emperor
The Caligula of Christianity
Antipope
The Walk to Canossa
The Hohenstaufen Dynasty Begins
The Red-Bearded Warrior King
Captor of the Lionheart
Stupor Mundi
The Great Interregnum
The King of Peace
The Rise of the Habsburgs
The Reformation
Eight Million Dead
The Dissolution
And much, much more!
Feel Free to contact me for book requests, informations or feedbacks.
Without You And Your Support We Can't Continue
Thanks For Buying Premium From My Links For Support