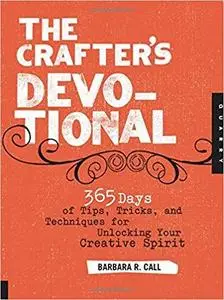 The Crafter's Devotional: 365 Days of Tips, Tricks, and Techniques for Unlocking Your Creative Spirit by Barbara Call
English | September 1, 2010 | ISBN: 1592536484 | 320 pages | PDF | 107 Mb
There is something elemental shared among artists and crafters, regardless of chosen medium: creative energy. Crafters dabble, collaborate, muse, and make, all in their own way and on their own ti<st1:personname>mel</st1:personname>ine. For all crafts, there are established techniques to follow but wild, innumerable ways to experiment, using the basics to launch crafters to new heights. Crafter's Devotional can aid that launch. Each day of the year is given its own focus, on which the reader will find a daily dose of craft content that inspires, instructs, and illuminates.
Feel Free to contact me for book requests, informations or feedbacks.
Without You And Your Support We Can't Continue
Thanks For Buying Premium From My Links For Support