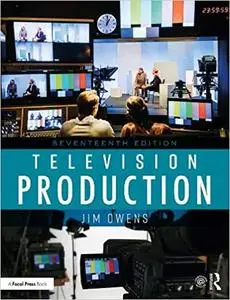 Television Production, 17th Edition
By Jim Owens
English | ISBN: 0367136333 | 2019 | 450 pages | EPUB | 74 MB
Gain the skills you need to succeed in the television industry and master the production process, from shooting and producing, to editing and distribution. This new and updated 17th edition of Television Production offers a thorough and practical guide to professional TV production techniques. Learn how to anticipate and quickly overcome commonly encountered problems in television production as author Jim Owens details each role and process, including the secrets of top-grade camerawork, persuasive lighting techniques, and effective sound treatment, as well as the subtle processes of scenic design, directing, and the art of video editing.
Updated throughout, containing a range of new figures and diagrams, the 17th edition of this classic text includes:
A discussion of the changing definition of "television" and how new technology alters viewing habits;
Interviews with professionals in the industry about the challenges they face during the production process and the advice they would give to those trying to break into the production and television industries;
A review of production practices and techniques for VR;
A description of the latest cameras and equipment, including LED lighting and remote production;
Guidance and techniques for low-budget, DIY-style productions