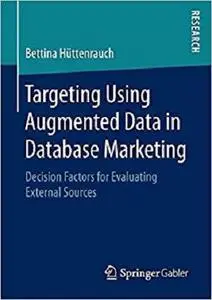 Targeting Using Augmented Data in Database Marketing: Decision Factors for Evaluating External Sources by Bettina Hüttenrauch
English | June 10, 2016 | ISBN: 3658145765 | 368 pages | PDF | 3.44 Mb
This study delivers insights on which external sources – e.g. website click behavior, surveys, or social media data – can and cannot be used for data augmentation. A case study is performed to test the suitability of different sources in order to create a generalized practical guide for data augmentation in marketing. Data augmentation is a beneficial tool for companies to use external data, if the internal data basis for targeting is not sufficient to reach the customers with the highest propensity. This study shows that augmenting data from feasible sources leads to significant conversion lifts.