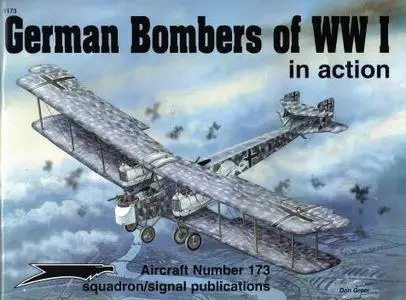 Peter Cooksley - German Bombers of WWI in Action - Aircraft Number 173
Squadron/Signal Publications | 2000 | ISBN: 0897474163 | English | 52 pages | PDF | 21.67 MB
Squadron/Signal Publications 1173
It's amazing that, barely a decade after the Wright Brothers' flight, massive twin-engined German bombers were active over the Western Front and even crossing the English Channel to attack London. Peter Cooksley takes a look at various Gotha, A.E.G., Friedrichshafen and Zeppelin behemoths that saw action in World War I in this interesting 2000 volume from Squadron/Signal.
Germany's WWI strategic bombers were a mixed lot. Though the Gotha was probably the best known multi-engine German warbird, the Zeppelin (Staaken) R.VI giants have to be seen to be believed. Powered by five or six engines and bristling with Parabellum machine guns, these incredible machines boasted wingspans of 138 feet!
Cooksley's book includes over 90 photos including some fascinating in-flight shots of Staaken giants along with three-views of various bombers. And the usual, well-done Don Greer color profiles.