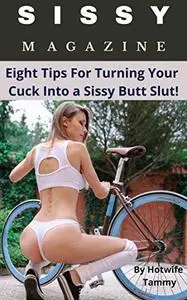 Sissy Magazine: Eight Tips For Turning Your Cuck Into a Sissy Butt Slut! by Hotwife Tammy
English | 2020 | ISBN: N/A | ASIN: B08MZ3PQJ4 | 50 pages | Rar (PDF, AZW3) | 3.46 Mb
Take it from an active hotwife like me—if you aren't already cuckolding your husband, you probably don't know what you're missing. The guys I hook up with are always telling me that I have a habit of moving fast—so let me get to the point now. If you are a married woman, you should definitely start cuckolding your husband. There is simply so much pleasure to be had, I am always busy making up for the time I wasted when I was faithful to my beta-male husband. And if you happen to be one of these cuckolds? The bad news is that your wife is going to stop having sex with you from now on. You simply can't compete with all the real men who are already approaching her. That's the big reason your wife is cucking you in the first place. There no reason to be sad though. As long as you're getting emasculated, you might as well get feminized. Very soon, you're going to be having just as much fun as your wife, and in the same way too. You're going to be turned into a woman yourself.
I also want to give you a little sneak peak about what happiness really looks like, especially as it relates to sex. I think I can tolerate all the difficulties of daily life, having a job, waiting in traffic, dealing with annoying people, all because I know that I have something to look forward to at the end of the day—amazing sex. And, as I have learned, this is simply something you can't get in a marriage. Okay, maybe one percent of married people are fully satisfied with the sex in their marriage. And at first, I had a honeymoon period, too. But I later learned that I was just high on the idea of being married. I felt like I had gone through this rite of passage and it made me a complete woman. My happiness had nothing to do with the particular man I had married or with the sex I was having with him. I quickly learned that the sex was actually mediocre and my husband was probably more suited to being a crossdresser and a transsexual. If you want to have amazing sex, the kind that will actually make you want to get up in the morning, it has to be new, kinky, and wild.
For me, this means cuckolding my husband with several different partners. Long ago, I decided that I should really try everything at least once. I think that you can't learn anything unless you leave your comfort zone. I know that transitioning probably seems both tantalizing and terrifying for a wannabe sissy. You know you want it, and yet you don't know how to move forward. There's nothing wrong with being scared. It's perfectly natural. And that's why I'm advising you to go ahead and try new kinds of sex, because that's what will really move you to act. And, as you know, it feels good, right?
If you happen to be a wannabe sissy reading this, you don't know what you're missing either. You're like an old married woman stuck with a boring husband who never had an orgasm in her life—and suddenly you finally get the balls to go out and buy a vibrator and you exclaim, "Where have you been all my life!"
That's what I was like, you see. Except I had the realization before I was too old to change things. It took me a long time to remember what I had known all along. Since I was a girl, all I really wanted was a boyfriend. I think the greatest gift a wife can give her husband is to force him to try sex as a girl. He's going to love it. When I first set up my husband with a boyfriend, he was force to reluctantly admit that, yeah, he wanted to be a woman. It was really adorable because I had known this for a long time. Deep down, he was a sissy butt slut. And, if you are too, I want to help you discover the kind of sex that will really made you feel like a natural woman.