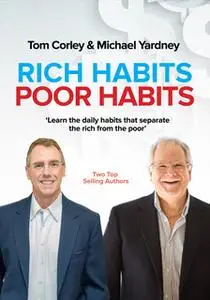 «Rich Habits Poor Habits» by Michael Yardney,Tom Corley
English | ISBN: 9781912022182 | EPUB | 0.6 MB
This book is your chance to learn the specific Rich Habits you must have in order to succeed as well as the Poor Habits that you must avoid at all costs.
Read it to unlock the secrets to success and failure, based on Tom Corley's five years' study of the daily activities of 233 rich people and 128 poor people as the authors expose the immense difference between the habits of the rich and the poor.
Learn the proven strategies of Michael Yardney, Australia's leading authority on the psychology of success and wealth creation and American co-author, Tom Corley, who's internationally acclaimed research on the daily habits of the rich and poor has changed the lives of hundreds of thousands of ordinary people around the world.
This book has been written for people who…
- Are living from month to month but want to get out of the rat race and become rich
- Are financially comfortable, but aspire for more
- Want to create lifetime wealth
- Want to teach their children how to become rich and leave a legacy