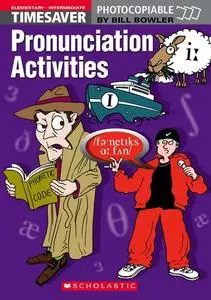 Pronunciation Activities (Timesaver)
2006 | 13 PDFs+MP3 | ISBN: 9781904720140 | 545 MB
Understanding real English and being able to communicate is key to students' success. There is a need for an up-to-date photocopiable resource which tackles pronunciation and listening comprehension issues in a realistic, non-contrived context. This book provides students with the skills they need to understand others and be understood.
1.TimeSaver Vocabulary Activities (Pre-Intermediate-Intermediate)
2. TimeSaver Grammar Activities Elementary (Classroom Photocopiable Timesavers)
3. Timesaver Cross-Curricular English Activities
4. Timesaver Read and React : Beginner - Pre-Intermediate
5.Timesaver Personality Quizzes - Elementary / Upper Intermediate
6. Timesaver Visual Grammar Elementary - Intermediate
7. Timesaver Picture Prompts
8. Timesaver Storyboard: - Pre-Intermediate – Intermediate
9. Timesaver Pronunciation Activities
10. Timesaver Games
11. Timesaver Drama in the Classroom
12. Timesaver Elementary_listening
13.TimeSaver Festivals and special days in Britain
14. Timesaver London