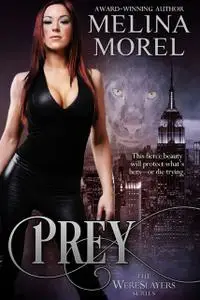 «Prey» by Melina Morel
English | EPUB | 0.4 MB
Descended from a legendary werecat demigoddess, Vivian Roussel is a modern New York businesswoman, specializing in Russian antiques. Life is wonderful until two things happen to upset her peaceful existence: unwelcome attention from the arrogant leader of her clan and a strange break-in at her warehouse involving shady werecats from a rival clan and a priceless sixteenth-century Russian icon.
To deal with the burglary, Viv hires a security expert, Pavel, who quickly goes from business associate to protector and lover, breaking werecat taboos with abandon. As they battle evil factions from her clan and defend the priceless icon from depraved werecats embedded in his, Viv and Pavel find themselves fighting foes from within and without. As their love grows in the shadow of international werecat politics and dirty dealings by both clans, Viv and Pavel can only rely on each other. And their very survival now depends on it.
PRAISE:
"Morel returns with another terrific tale that combines paranormal politics, theft, and murder … Two intriguing protagonists make the burgeoning relationship satisfying and believable. Morel has quite the future ahead." —Romantic Times
"The best kind of werecat romance … The world building is extraordinary and the author wrote the werecat universe with plenty of details, giving the reader a bird's-eye view … This is a keeper, folks, and one you definitely do not want to miss!" —Coffee Time Romance
"A whirlwind ride of paranormal proportions. Melina Morel is one author to watch out for as she quickly rises to the top … For fans both old and new to the world of paranormal, you have to try this author out for yourself." —Manic Readers
"Melina Morel brings both intrigue and lust together in an action-packed story … This whodunit will keep you on the edge of your seat from start to finish … Ms. Morel brings out the very best in romance and drama, making Prey a very memorable story." —TwoLips Reviews