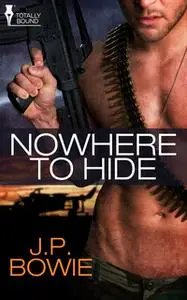 «Nowhere to Hide» by J.P. Bowie
English | ISBN: 9780857154477 | EPUB | 0.2 MB
An American doctor meets an Australian soldier in the wilderness of Darfur, and soon their passion burns hotter than the desert sun. Doctor Mark Hamilton working for Doctors Who Care International and stationed at a refugee clinic in Darfur, never thought hed meet and fall in love with someone like Sergeant Major Jack -Boomer-Caruthers in the middle of the strife torn territory-nor could he ever imagine being sold as a sex slave to an exiled Prince! Fortunately for Mark, its Jack to the rescue. The two men make a daring escape into the desert and are picked up by Jacks team, but Mark ignores Jacks warning not to return to the clinic, with dire results. Once again made captive by the slave traders, Mark can only cling to the hope that Jacks love for him is strong enough to face the dangers he will encounter in the vast deserts of Somalia.