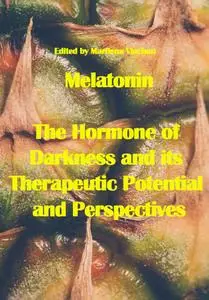 "Melatonin: The Hormone of Darkness and its Therapeutic Potential and Perspectives" ed. by Marilena Vlachou
ITExLi | 2020 | ISBN: 1839629096 9781839629099 1839629088 9781839629082 183962910X 9781839629105 | 124 pages | PDF | 6 MB
This book, on the pineal hormone melatonin, is addressed to a wide non-cognizant and cognizant readership. The present text emphasizes the positive role of exogenously administered melatonin, and its synthetic derivatives, on disrupted circadian rhythm-related dysfunctions.
The hormone appears to be involved in sleep onset and other functions associated with the body's clock, the suprachiasmic nucleus. It is ubiquitous throughout both the animal and plant kingdoms and has a long evolutionary history as a hormone. Melatonin has a major role in the regulation of circadian rhythms in non-mammalian vertebrates and forms part of their control in mammals. This is effected by resetting the clock in jet lag sufferers and those with seasonal affective disorders, insomnia, and various neurological conditions.
Contents
1.Synthetic Melatonin Receptor Agonists and Antagonists
2.Clinical Use of Melatonin in the Treatment of Sleep Disorders
3.Melatonin as a Food Supplement for Sleep Disorders
4.Melatonin for a Healthy Heart Rhythm
5.Per Os Administered Modified-Release Solid Formulations of Melatonin: A Review of the Latest Developments Including the Design of Experiments (DoE) Approach
6.The Release Kinetics of Melatonin from Innovative Dosage Forms: The Role of the Fractal Geometry of the "Vehicle"
7.Review of Melatonin in Horticultural Crops
8.Studies on Tryptophan Metabolites in Patients of Major Monopolar Depression
1st true PDF with TOC BookMarkLinks