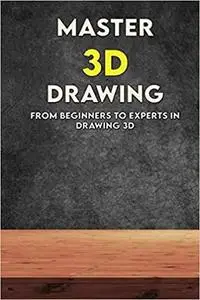 Master 3D Drawing: From Beginners To Experts In Drawing 3D: How To Draw 3D Ladder 4 by Independently published
English | March 12, 2021 | ISBN: N/A | ASIN: B08YQCNTF8 | 124 pages | EPUB | 2.70 Mb
Make your 3D Drawing become EASY with this book TODAY!
Ways to improve my 3D Drawing
Video tutorials and books that I watched and read are not effective for me to draw 3D better
Looking for a detailed guide to get better at 3D Drawing
This is an amazing book that will help you with your problems above! Drawing 3D won't be difficult anymore! This book has been formatted to help you at every step of the way and leave you making pictures that seem to pop off of the page. Every detail, trick, and piece of advice has been included to answer your questions as you go from lesson to lesson. By the time you are finished with the lessons in this book, you will have the knowledge to make your own 3D creations.
There are 12 chapters you'll discover in this book:
In the Beginning
Your Shopping List
Shading
Sphere
The cube
Tower
Pipe
Rain Cloud
Ladder
Crack
Webbed Sphere
Walls
"Practice makes perfect!"