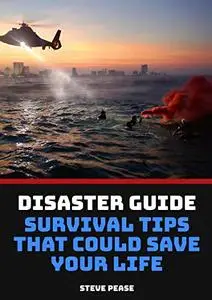 How To Survive A Natural Disaster: What you need to know to survive things that could happen any time by Steve Pease
English | 2018 | ISBN: N/A | ASIN: B01MAWKWL0 | 55 pages | EPUB | 0.36 Mb
Every disaster is unique, there is no way to predict the exact circumstances that will be part of every situation. Because of this, you need to get ready for any possibilities that could happen. There are disasters that happen every day around the world, the key to surviving a disaster is being prepared for what may happen.What does survival mean? Survival is being able to not die without the things you now have to live with in any situation where those things are no longer available. Do you know what to do and are you prepared to protect and provide for you and your family when no one else can help?These are not things we want to think about, they are not good thoughts. Not being ready, will not stop things from happening to you, you need to be ready to deal with. This book is not a book dealing with the collapse of the economy or the collapse of the government. I'm not saying that won't happen. But the things in this book to prepare for are things that happen everyday somewhere. A survivor in any situation is a person who uses stress to build them up and get them through the situation. A non survivor is someone who lets the situation tear them down and give up. When everything you know is in chaos, the ability to deal with the chaos until it is over is what you need to survive.Read through the book and do the things in the book to get prepared for the things in the book that can happen to your family. Not all places are all of these things possible, but get prepared for the ones that can happen where you are.A little preparation ahead of time will make your getting through these things much easier, and could even be the difference between life and death in some situations.
Feel Free to contact me for book requests, informations or feedbacks.
Without You And Your Support We Can't Continue
Thanks For Buying Premium From My Links For Support