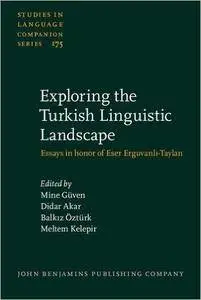 Mine Guven, Didar Akar - Exploring the Turkish Linguistic Landscape: Essays in honor of Eser Erguvanl-Taylan
2016 | ISBN: 9027259402 | English | 222 pages | PDF | 3 MB
Exploring the Turkish Linguistic Landscape provides in-depth analyses of different aspects of Turkish in the domains of phonology, morphology and syntax, discourse and language acquisition relevant to recent theoretical discussions. While some of the papers in the volume offer new analyses to known linguistic puzzles, others raise new questions which have not been addressed in the literature before. This collection of original articles written by colleagues and students of Prof. Eser Erguvanli-Taylan, honoring her contribution to the field of linguistics, features articles on vowel reduction, consonant clusters, negation, conditionals, voice morphology, evidentiality, acquisition of irregular morphology, complementation and subordination in varieties of Turkish. It will be of interest to a wide audience ranging from theoreticians to typologists and is expected to generate further research on Turkish, as well as to contribute to the cross-linguistic literature on the issues addressed in the volume.