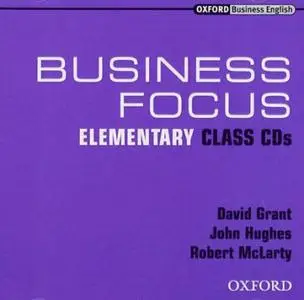 Business Focus Elementary (Students Book + Audio)
David Grant, Robert McLarty
2006 | PDF+MP3 | 153 pages | 9780194576338 | 146.6 MB
David Grant worked for 8 years with the International House in France, Spain, and England, as a teacher, teacher trainer, and Director of Studies. In 1990 he moved to Nantebs in the west of France, where he opened his own private training organization, International Language Services. Robert McLarty has been involved in Business English teaching since 1979. He is a teacher and teacher trainer, and has run a number of RSA Diploma and teacher-training courses.
From 1986 to 1997, Robert was the Director of ILC Paris. In 1998 he moved to Oxford to run OISE Oxford and in 2004 he joined Oxford University Press ELT Division as Publishing Manager, Business English. John Hughes has taught in Austria, Poland, and Italy, and has also worked as a Director of Studies for Business English. He currently manages a teacher training department in Cheltenham, UK, specializing in Business English teacher training as well as running Trinity Certificate TESOL and Diploma TESOL courses.