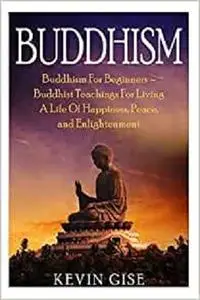 Buddhism: Buddhism For Beginners – Buddhist Teachings For Living A Life Of Happiness, Peace, and Enlightenment (Buddhism Rituals, Buddhism Teachings, Zen Buddhism, Meditation and Mindfulness) by Kevin Gise
English | February 17, 2016 | ISBN: 1530106486 | 63 pages | Rar (PDF, AZW3) | 0.75 Mb
Looking For Inner Peace & Happiness?
Are you looking to become a Buddhist?
Want to learn about Buddhism and whether or not it's the right path for you?

Buddhism is made up of a variety of beliefs, traditions, and spiritual practices based primarily on the teachings of Buddha. It's practiced by over 300 million people worldwide.
Buddhism explains inequality and injustice. It gives us the purpose of life, while providing a moral code and way to lead a life filled with zen and happiness.
This book is aimed at people wanting to learn about Buddhism. In this book, I'll discuss the basic principles and tenets of Buddhism, Buddhist teachings and Buddhist rituals, along with how you can incorporate Buddhism into your daily life.
Inside You Will Learn:A Brief Introduction to Buddhism
The Four Noble Truths / The Eight Fold Path / The Five Precepts
Karma, Rebirth & Reincarnation
Buddha's Life and Teachings
Buddhism Rituals & Meditations
The Seven Factors of Enlightenment & The Five Hindrances
Buddhism & Daily Life
Buddhism Tips, Quotes & Resources
And Much More!!

This is a great starting off point for beginners. If you want to learn more about Buddhism, you need to get this book.
Don't Delay. Download This Book Now.
Tags: Buddhism, Buddhism for beginners, Buddhist rituals, Buddhist, mindfulness, zen, meditation
Feel Free to contact me for book requests, informations or feedbacks.
Without You And Your Support We Can't Continue
Thanks For Buying Premium From My Links For Support