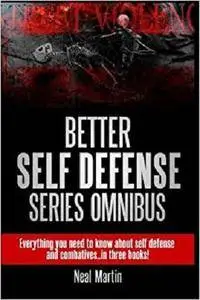 Better Self Defense Series Omnibus by Neal Martin
English | January 29, 2015 | ISBN: 1507770332 | 400 pages | AZW3 | 3.14 MB
Renowned combatives instructor and self defense writer, Neal Martin presents his no nonsense, practical and highly effective approach to self defense in his bestselling book series.
Everything you need to know about self defense and combatives in one place!
Self Defense Tips Everyone Should Know
Reviews:
"…a book extrapolated from real world experience that is based on reality and not academic theory."
"…what you read here could very well save your life someday."
"…the ONLY book I've read that has given me any real confidence in my ability to defend myself properly. GET IT."
In this book you will learn:
How to properly take responsibility for your personal safety
How to formulate a self defense gameplan that works
How to sharpen your awareness skills and stay "switched on"
How to conquer fear and adrenaline
How to really hit hard and hit first when necessary
The self defense techniques that instill panic in your attacker and force them to capitulate
And much more
By the time you finish reading this book you will have a complete self defense game plan in place and you will know more about how to protect yourself than most people out there—even the ones who train in self defense already!
Combatives Instruction
A book for all instructors and students of self defense who strive for excellence in their teaching and training.
"…like Hemingway on fighting."
B. Williams
A completely practical guide on self defense training methods that will give you:
A complete blueprint for teaching and training combatives
A detailed and fully explained combatives syllabus for you to work from
Essential training practices and guidelines
The best self defense techniques to teach and train
Numerous example training drills
Guidelines for developing your students (and yourself)
And much more This book details all the essential elements of teaching combatives the right way so that you can get the results your students are looking for. Self Defense Solutions
Do you want better results from your self defense training? If you do then you need to change your approach to your training. How you approach your combatives training will determine whether or not you end up GETTING GOOD RESULTS, or whether you end up wasting your time. This book will help you define a way to approach and conduct certain aspects of your training so that you can ACHIEVE THE RESULTS YOU ARE LOOKING FOR. If you are serious about learning how to properly defend yourself against violence, and if you are serious about your training, then you will get a lot out of this book. If you are not serious however, don't bother reading this book, as you will gain little from it. The only way you will get better results from your training is to train…a lot. And to train in the right way, as THIS BOOK WILL SHOW YOU HOW.
Inside this book you will learn:
How to make yourself a hard target for criminals
The right way to train on pads and how to design pad drills for better results
How to improve your striking skills and hit like a pro
The power of intent and how to use it to double the power and effectiveness of your techniques
The three major flaws in combatives training and how to fix them
How to develop your fighting instincts
The role of reality dyslexia in training and how to avoid it
The truth about self defense psychology and mental training
And a lot more… If you want REAL RESULTS from your self defense training, these books will help you achieve those results.