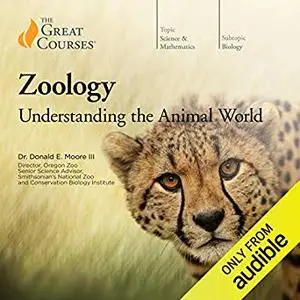 Donald E. Moore (Author, Narrator), The Great Courses, "Zoology: Understanding the Animal World"
ASIN: B07PGCYYLL | 2019 | M4B@62 kbps | ~12:06:00 | 362 MB
As much as we love a trip to the zoo, the truth is that you can't learn everything there is to know about animals with an occasional brief visit. But by exploring zoology and the tireless work of zoologists, you'll find your next trip more rewarding, enriching, and satisfying.
In these 24 lectures, The Great Courses teams up with the Smithsonian's National Zoo and Conservation Biology Institute, to take you behind the scenes of the animal world. Dr. Moore has crafted a wonderful introduction to zoology that brings you up close and personal with a breathtaking variety of animal species through the eyes of a trained zoologist.
Throughout these lectures, you'll explore the fundamentals of zoology (including the relationship between genetics and environment), dive into the different orders of life on our planet (from the ocean depths to the highest tree tops) and investigate special subjects intriguing today's zoologists (including animal behavior and conservation). You'll also meet some of most incredible animals on Earth: butterflies, bears, crocodiles, tigers, giant pandas, elephants, gorillas, and more. And thanks to exclusive footage from the Smithsonian's National Zoo, you'll be able to see these animals in action, up close and without the crowds.
It's a wide, wild world out there. And with these engaging lectures, you'll be better equipped to get out there and discover its animal wonders. Whether they're in your local zoo or aquarium, a national park, or right in your own backyard.
PLEASE NOTE: When you purchase this title, the accompanying PDF will be available in your Audible Library along with the audio.