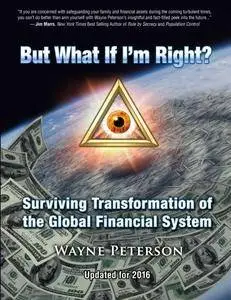 But What If I'm Right?: Surviving Transformation of the Global Financial System by Scott Adams
English | 11 Aug. 2016 | ASIN: B01K99BNFW, B01FELPH3E | 502 Pages | AZW3 | 9.27 MB
BWIIR is a comprehensive source book for FINANCIAL SURVIVAL - updated for 2016 and packed with SPECIFIC practical actions that can be taken NOW by individuals to rearrange and PROTECT ASSETS held in banks, brokerages, retirement plans and elsewhere from FINANCIAL DESTRUCTION during 2016-2019. "BWIIR" is more than just a book; it is EXTENSIVELY HYPERLINKED to enable readers to verify information and/or simply deepen their knowledge in a particular subject area. To access the hyperlinks, the publisher will provide a DOWNLOAD of the entire contents upon request. (See details on page 3 of the book.) Also accompanying each order is an offer from the publisher of 12 free issues of the Transformation Watch newsletter, which reports monthly on new material relevant to topic ares covered in the book, allowing the purchaser to stay abreast of current developments through the next year. As a further bonus, the author is sending specific asset pre-positioning recommendations to current purchasers to help them prepare for the collapse that has already started! What's at stake? Global economic and market turbulence is already visible and it is accelerating, as the "financial hurricane" that struck US and global economies in 2008 returns. With debt and leverage substantially higher than in 2008, we are now facing potential COLLAPSE OF THE CURRENT MONETARY SYSTEM and a TRANSFORMATION OF SOCIETY. It is also evident to me that this time governments and central banks are NOT going to intervene to "save" us. The book also contains extensive information on tangible assets, including precious metals, and covers barter, Bitcoin, martial law exercises, the AIIB, Fed interest rate increases, the IMF SDR reset, Grexit and Brexit and much more. Wayne Peterson is an independent registered investment advisor who has been managing money for over 25-years and is hoping in the interest of family members and humanity that his conclusions are incorrect. But at this point, they continue materializing, with precious little time left to prepare.