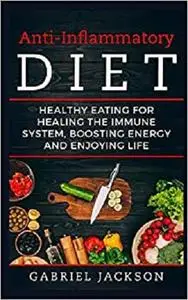 Anti-Inflammatory Diet:Healthy Eating For Healing The Immune System, Boosting Energy And Enjoying Life by Gabriel Jackson
English | September 10, 2019 | ISBN: 1692226088 | 60 pages | EPUB | 0.18 Mb
If you want to learn how to reverse chronic inflammation through simple dietary changes, then keep reading…
For millions of people, inflammation is a very real problem that can increase the risk of some dangerous and unpleasant chronic conditions.
But it doesn't have to be this way.
If you
suffer from chronic inflammation,
you're already familiar with excruciating symptoms such as pain and fatigue, as well as co-existing conditions, including autoimmune disorders and gut health problems
You need to understand what this common condition actually is if you want to end the irritation it causes and find an effective lasting solution.
In recent estimates by Rand Corporation, in 2014 nearly 60% of Americans had at least one chronic condition, 42% had more than one and 12% of adults had 5 or more chronic conditions.
That's exactly why this book exists.
In this book, we will discover:
Which are those 4 signals you will receive when your immune system kicks into gear and the best way to directly fight inflammation.
3 Powerful reasons why you must implement this protocol to end the feelings of depression.
The 1st thing you must implement if you want to stop the feelings of fatigue.
6 Most powerful foods you have to consume so you can protect the body from molecules that promote inflammation.
How you can start right away, with our best meals possible.
Among children in the United States the rate of chronic health conditions increased from 12.8% in 1994 to 26.6 % in 2006.
An anti-inflammatory diet can be complicated and expensive to maintain.
Feel Free to contact me for book requests, informations or feedbacks.
Without You And Your Support We Can't Continue
Thanks For Buying Premium From My Links For Support