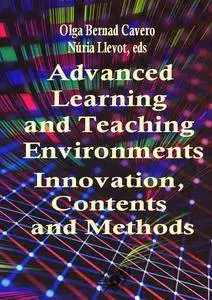 "Advanced Learning and Teaching Environments: Innovation, Contents and Methods" ed. by Olga Bernad Cavero and Núria Llevot
ITExLi | 2018 | ISBN: 1789235553 9781789235555 1789235545 9781789235548 | 269 pages | PDF | 14 MB
This volume is dedicated toThis book presents a set of works rigorously elaborated by authors of different disciplines, on the role of information and communication technologies (ICT) in educational centers and on the use of digital resources in the initial and continuing teacher training to improve them, as well as in the teaching of different subjects to achieve a better academic and social performance of students. Besides, the reader will find some innovative experiences in physical education to achieve a better physical, emotional, and social performance of students.
In a plural, complex, and diverse society, the school faces many challenges. Teachers must prepare their students for future professions, unthinkable nowadays, and the digital competences of teachers and students are one of the axes of an advanced school.
Contents
1 Pedagogical and E-Learning Techniques for Quality Improvement of ICT Education
2 The Use of the ASSIM Model for Technology Integration in Instructional Delivery by Faculty Members and Pre-Service Teachers
3 Academic Training in the Double Degree on Teacher of Pre-Elementary and Elementary Education: A Reciprocity Model Among Three Agents Based on the Audiovisual Narratives
4 Distance Continuous Training of School Managers
5 In the Spotlight: Supporting Focus Teachers in Video-Based Collaborative Learning Settings
6 Outdoor Learning Activities as Facilitators in the Construction of Environmental Citizenship
7 Exploring the Pedagogy of Online Feedback in Supporting Distance Learners
8 Practical Usage of OER Material in the EFL Classroom
9 Making as Pedagogy: Engaging Technology in Design Teaching
10 Pedagogical Techniques Employed by the Science Television Show MythBusters
11 How the Science Entertainment Television Show MythBusters Teaches the Scientific Method
12 Scientific and Theoretical Prerequisites for Improvement of Modern Pedagogical Technologies
13 Style E Tactical Pedagogical Model
14 Learning Styles in Physical Education
15 Clumsiness and Motor Competence in Physical Education and Sport Pedagogy
1st true PDF with TOC BookMarkLinks