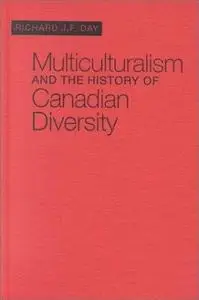 Multiculturalism and the History of Canadian Diversity By Richard J.F. Day
2000 | 288 Pages | ISBN: 0802042317 | PDF | 14 MB
Is Canada a country of equal and peacefully coexisting identities, working towards what Charles Taylor has called a 'post-industrial Sittlichkeit'? In this analysis of the history of Canadian diversity, Richard Day argues that no degree or style of state intervention can ever bring an end to tensions related to ethnocultural relations of power.Using Foucault's method of genealogical analysis and a theory of the state form derived from the works of Deleuze and Guattari, Day creates a framework for his exploration of the construction of human difference and its management over the years. He argues that Canada's multicultural policies are propelled by a fantasy of unity based on the nation-state model. Our legislation, policies, and practices do not move us towards equality and reciprocity, he reveals, because they are rooted in a European drive to manage and control diversity.Day challenges the notion that Canadian multiculturalism represents either progress beyond a history of assimilation and genocide or a betrayal of that very history that supports the dominance of Anglo-Canadians. Only when English Canada is able to abandon its fantasy of unity, Day concludes, can the radical potential of multiculturalism politics be realized.