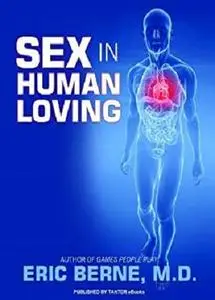 Sex in Human Loving by Eric Berne
English | July 13, 2011 | ISBN: N/A | ASIN: B005DTK5HQ | 257 pages | EPUB | 0.63 Mb
Eric Berne, best known as the originator of transactional analysis and the author of the 1965 classic Games People Play, presents a comprehensive overview of sexuality based on a series of lectures he delivered in 1966.
This educational and important book: "Sex in Human Loving" by Eric Berne MD. Dr. Berne is always provocative and informative. In a special section, he describes and analyzes the sex games people play. These include games of interrupted intercourse, like "Refrigerator Door" and "Note Book", The Baboon Switch" (wife and pasha), "The Stickleback Switch (father fish and small fry), the classic game of "Rapo" with its variations of "Buzz Off, Buster" and "False Cry of Rape"
Feel Free to contact me for book requests, informations or feedbacks.
Without You And Your Support We Can't Continue
Thanks For Buying Premium From My Links For Support