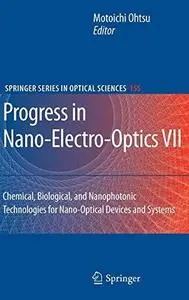 Progress in Nano-Electro-Optics VII: Chemical, Biological, and Nanophotonic Technologies for Nano-Optical Devices and Systems By H. Tokoro, S. Ohkoshi (auth.), Motoichi Ohtsu (eds.)
2010 | 149 Pages | ISBN: 3642039502 | PDF | 9 MB
This book focuses on chemical and nanophotonic technology to be used to develop novel nano-optical devices and systems. It begins with temperature- and photo-induced phase transition of ferromagnetic materials. Further topics include: energy transfer in artificial photosynthesis, homoepitaxial multiple quantum wells in ZnO, near-field photochemical etching and nanophotonic devices based on a nonadiabatic process and optical near-field energy transfer, respectively and polarization control in the optical near-field for optical information security. Taken as a whole, this overview will be a valuable resource for engineers and scientists working in the field of nano-electro-optics.