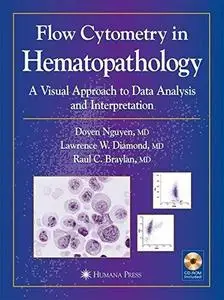 Flow Cytometry in Hematopathology: A Visual Approach to Data Analysis and Interpretation (2002) (Current Clinical Pathology) By Doyen T. Nguyen, Lawrence W. Diamond, Raul C. Braylan
2002 | 256 Pages | ISBN: 1588292126 | PDF | 7 MB
This unique text offers a systematic and practical approach to the analysis and interpretation of FCM graphics. Using numerous FCM illustrations derived from actual well-documented clinical cases, the authors demonstrate a step-by-step approach to optimal FCM data analysis on specimens suspected of harboring hematopoietic malignancies. The discussion moves from simple to complex specimens, with an emphasis on visual pattern analysis. A wide variety of hematologic disorders are covered, including leukemias and lymphomas. The companion CD-ROM with 80 detailed case studies provides additional opportunities to gain a deeper understanding of FCM data analysis.