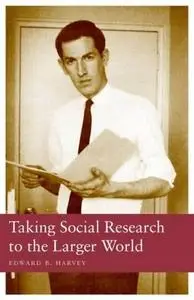 Taking Social Research to the Larger World By Edward B Harvey
2005 | 200 Pages | ISBN: 1551302551 | PDF | 1 MB
This is the remarkable story of Professor Edward Harvey's twin track career as a university professor and consultant specialising in social policy issues - a forty year journey that blossomed with the dynamic Trudeau era and the search for 'The Just Society'. With its richly detailed accounts of early life at Princeton, royal commissions, government task forces, and private sector assignments, this book will be a compelling read for anyone interested in policy, organizational change, equality issues, and the recent history of Canada's sometimes fragile confederation. Dr. Harvey's journey is impeccably written and tremendously engaging. The author's abilities as a story teller are finely tuned. Although biographical, this book is, in large part, a history of Canada too. Context is everything and the author has woven his life together with Canada's recent past quite beautifully. The author leads us through the strong post-war economic growth and the demographic explosion that came to be known as the baby boom, and on to the resulting dramatic social policy developments. Details of behind-the-scenes events and conversations add humour and realism to the 'characters' in a highly entertaining fashion. Themes of intellectual curiosity, a genuine love of learning, brainstorming, camaraderie, and teamwork are evident at every turn. Challenge and innovation have indeed directed Dr. Harvey's twin track career and unique vision.