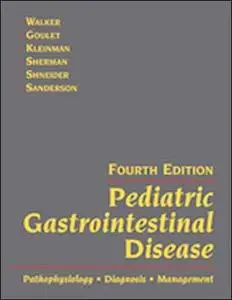 Pediatric Gastrointestinal Disease (2 Volume Set) By W. Allan Walker
2004 | 2148 Pages | ISBN: 1550092405 | PDF | 55 MB
This new edition of Pediatric Gastrointestinal Disease is dedicated to the maintenance of a comprehensive approach to the practice of Pediatric Gastroenterology. Considered to be the definitive reference work, this fourth edition has been extensively reviewed. As a result, the size and content of various sections have been modified and new chapters have been added. Specific sections deal with Physiology and Pathophysiology, Clinical Presentation of Disease, Clinical Manifestations and Management (discussing the Mouth and Esophagus, The Stomach and Duodenum, The Intestine, and The Pancreas), Diagnosis of Gastrointestinal Diseases, and Principles of Therapy. Each author, selected because of their particular expertise in the field, has provided an authoritative and comprehensive account of their topic. This volume s need-to-know information is supported by a varied selection of tables, illustrations, and photographs. The two volumes come with a CD-ROM with the complete text and color versions of the illustrations.