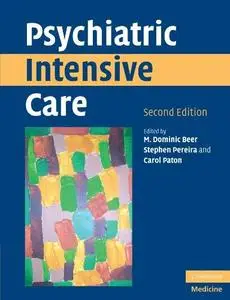 Psychiatric Intensive Care By M. Dominic Beer, Stephen M. Pereira, Carol Paton
2008 | 386 Pages | ISBN: 0521709261 | PDF | 2 MB
Significantly expanded and updated from the first edition Psychiatric Intensive Care is essential reading for all healthcare professionals and managers involved in the care of the mentally ill patient, particularly in the intensive care environment. It provides practical and evidence-based advice on the management of disturbed and severely ill psychiatric patients in secure hospital settings. New chapters have been added covering multidisciplinary team working, and emphasising the interface of psychiatric intensive care with other mental health specialities; specifically, Interface with General Psychiatry, Interface with Learning Difficulties, Interface with the Child and Adolescent, Interface with Substance Misuse, Interface with Social Work, User and Carer Issues, Legal Issues and National Standards and Good Practice in Psychiatric Intensive Care. This book should be read by all mental health team members working with disturbed psychiatric patients on an inpatient basis, as well as by management staff responsible for establishing and running these services.