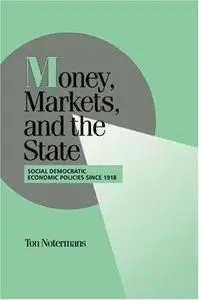 Money, Markets, and the State: Social Democratic Economic Policies since 1918 By Ton Notermans
2007 | 324 Pages | ISBN: 0521033268 | PDF | 8 MB
Money, Markets, and the State provides in-depth explanations behind the various successes and failures of the economic policies of social democratic governments in five Western European countries: Germany, Great Britain, Sweden, Norway and the Netherlands. Dr. Notermans examines these economic systems from the inflation of the early twenties, through the Great Depression of the thirties, and then continues his analysis up to present-day mass unemployment. Drawing on a wide range of historical and statistical sources, Dr. Notermans argues that the fate of social democratic economic policy hinges critically on the political and institutional success of maintaining price stability.