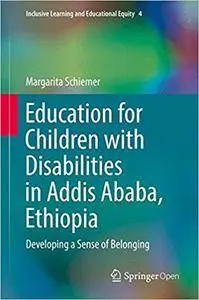 Education for Children with Disabilities in Addis Ababa, Ethiopia: Developing a Sense of Belonging (Inclusive Learning and Educational Equity) by Margarita Schiemer
English | Aug. 4, 2017 | ISBN: 3319607677 | 213 Pages | PDF | 5 MB
This book presents insights into the lived realities of children with disabilities in primary schools in Addis Ababa, Ethiopia. It examines specific cultural and societal characteristics of Ethiopia that influence the education of children with disabilities. The book presents findings drawn from interviews with, and participant observation of the schoolchildren, family members, teachers and other "experts", and places these findings in a cultural-historical context. The multidimensional approach taken allows for, on the one hand, the provision of a historical grounding of the book, explaining the main historical junctures and their implications for education, and the discussion of the role of culture and society as barriers and facilitators of education. On the other hand, it gives the book a more personal angle, allowing the reader to gain insight into what it means to feel like a family, develop a sense of belonging, and trying to move toward educational equity.