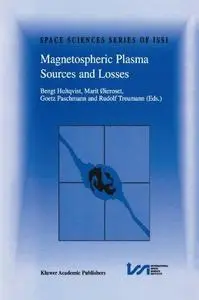 Magnetospheric Plasma Sources and Losses: Final Report of the ISSI Study Project on Source and Loss Processes By Bengt Hultqvist, Marit Øieroset (auth.), Bengt Hultqvist, Marit Øieroset, Goetz Paschmann, Rudolf A. Treumann (eds.)
1999 | 482 Pages | ISBN: 9401059187 | PDF | 80 MB
The present sixth volume of ISSI Space Sciences Series is the outcome of the most ambitious study project of ISSI hitherto, that on 'Source and Loss Processes of Magnetospheric Plasma'. The goal has been to produce a fully integrated book on the subject, which gives an authoritative overview of all aspects of the topic in a well organized form, useful and readable both for active researchers in the field and for young scientists who are starting their research in space physics. In order to represent the full diversity of experience and perspective that exists in the science community, some 50 leading scientists from allover the world were invited to participate in the project and contribute to the text. With the scientific competence well in hand, the dominating problem in producing the book has been to achieve a degree of consistency in style, nomenclature, notations and format, as well as good cross referencing. To what degree we have succeeded in reaching our goal of delivering a volume that will be useful to the community in both its comprehensiveness and readability remains to be decided by the readers. The book is the outcome of a three year long process. In December 1995 the study project on 'Source and Loss Processes of Magnetospheric Plasma' was se­ lected by ISSI after consultations with several groups of senior representatives of the space physics community.