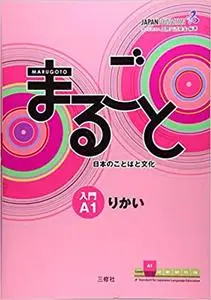 The Japan Foundation, "Marugoto: Japanese language and culture. Starter A1 Rikai"
English, Japanese | 2013 | ISBN: 3875487087 | 200 pages | PDF | 32.2 MB
Marugoto: Japanese Language and Culture is a coursebook that is based on the JF Standard for Japanese Language Education, and offers learning in both language and culture.
Marugoto offers two methods of study: Katsudoo and Rikai for A1 and A2.
With the purpose of furthering the understanding of characters, vocabulary, grammar, and sentence patterns, "Rikai: Coursebook for Communicative Language Competences" responds to the needs of learners who can already use Japanese, but wish to systematically study its structure as a language, as they do not understand it well.
Katsudoo and Rikai have a rich source of full-color photographs and illustrations. All realistic dialogues are provided as audio learning materials.
Marugoto Starter A1 Rikai aims to help learners so they:
Can understand and use familiar everyday expressions and very basic phrases aimed at the satisfaction of needs of a concrete type.
Can introduce him/herself and others and can ask and answer questions about personal details such as where he/she lives, people he/she knows and things he/she has.
Can interact in a simple way provided the other person talks slowly and clearly and is prepared to help.