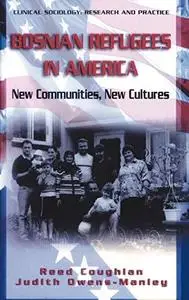 Bosnian Refugees in America: New Communities, New Cultures By Reed Coughlan, Judith Owens-Manley
2005 | 206 Pages | ISBN: 0387251553 | PDF | 2 MB
This book is based on the results of a research project that focused on the lives and experiences of a sample of 100 Bosnian families in an upstate New York community. This particular community has been the site of resettlement of more than 10,000 refugees from many countries between 1979 and 2001, including about 4,000 Bosnian refugees between 1993 and 2001. The book tells the story of the psychological, socio-cultural and economic adaptations of the Bosnian refugees to this community. It considers the effects of the trauma of war, the cultural differences and dislocation that are a part of their experience, the strategies they have used for successful adjustment, and the obstacles they still face in reconciling personal hopes and dreams. This is a timely and compelling story, much of it told in the words of the Bosnians themselves. The book considers the diverse experiences of urban and rural families before the war and the effects of the timing of their departure from Bosnia upon their experience of resettlement. The relative success of their adaptation is attributed to the consonance between Bosnian attributes and values and the characteristics of the host community. A discussion of sociological and social work practice with refugees includes suggestions for working with newcomers in the years following resettlement in individual, family, and community contexts.