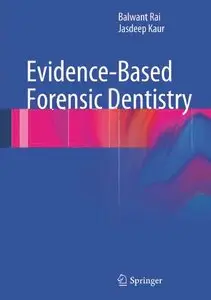 Evidence-Based Forensic Dentistry by Balwant Rai and Jasdeep Kaur
English | 2012 | ISBN: 3642289932, 3662508168 | 200 pages | PDF | 5,8 MB
Recent years have witnessed significant advances in forensic odontology. This book presents basic concepts in the field and describes all the standard examination procedures currently employed in the acquisition of dental evidence.
Detailed information is provided on the identification of unknown individuals, the application of forensic dentistry in mass disasters and multiple fatality incidents, the role of dental evidence in child abuse investigations, and the analysis of bite mark evidence. Other features of the book are a series of high-profile cases, clear advice on the writing of legal reports, and discussion of the significance of DNA and oral fluid in forensic odontology. The text is supplemented by numerous high-quality figures, many of them in color. This book will be invaluable for dental examiners and pathologists, legal and police science professionals, and dentists who want to use their training and experience in an interesting and challenging way.